Tag Archive | Glasgow
ecoartscotland

Scotland on Sunday features the Land Art Generator Glasgow exhibition, opening at The Lighthouse, Glasgow on 9 June.
Name checks for Wind Forest – ZM Architecture, Dalziel + Scullion, Ian Nicol of Qmulus and Peter Yeadon, previous LAGI participant who joined the Scottish team; Water Gaw – ERZ Landscape Architecture, Alec Finlay and their overseas team member Riccardo Mariano; Dundas Dandelion – Stallan-Brand Architects, Pigdin Perfect, the Glasgow Science Festival and their overseas partner Matt Rosenberg.
All three proposals imagine renewables at the heart of making Dundas Hill into a new place to live and work. Wind Forest conceptualised this as 10 habits to create a habitat.
REMINDER: Workshop with Creative Carbon Scotland on 8 June. Booking here
Previous story in The Scotsman here.
ecoartscotland
Excerpts from a recent Land Art Generator Initiative (LAGI) blog,
We believe that there is no better tool for creating a tipping point to strong climate action and 100% renewable energy infrastructure than to present a positive vision to the public of what that could look like and the residual benefits that such policies would bring to cities. The opportunity to bring new energy technologies into city planning and creative placemaking projects is at the heart of LAGI. As a part of the design and implementation of constructed works, LAGI educational programming provides the perfect platform for extensive community engagement and participatory design processes, leading to infrastructures that benefit the greatest number of people. LAGI Glasgow is proving to be the perfect example of this ideal delivery model.
In early 2013, we received an email from Chris Fremantle, producer, researcher, and founder of ecoartscotland. Following on conversations he had…
View original post 125 more words
Land Art Generator Initiative are on of the world's leading arts organisations engaging in energy issues – this talk in Edinburgh later this November is unmissable for anyone interested in developing work in the arts and energy space.
ecoartscotland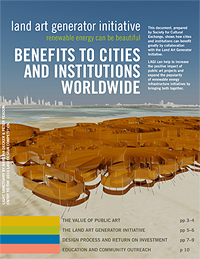 As we aggressively implement strategies towards 100% carbon-free energy and witness a greater proliferation of renewable energy infrastructures in our cities and landscapes, we have an opportunity to proactively address the aesthetic influence of these new machines through the lenses of planning, urban design, community benefit, and creative placemaking. Please join the Land Art Generator Initiative, Creative Carbon Scotland, SCENE Consulting, and ecoartscotland for a presentation and discussion about the aesthetic and cultural implications and the concomitant potential for community benefit of renewable energy infrastructure.
LAGI Founding Directors Elizabeth Monoian and Robert Ferry will speak about the LAGI 2016 Open Competition and the LAGI Glasgow project, highlighting the role that creatives are playing in the design of our energy futures.
Location: Edinburgh Centre for Carbon Innovation
Date: lunchtime (12.30-2pm) 18 November 2015
The Land Art Generator Initiative (LAGI) brings together artists, architects, scientists, landscape architects, engineers, and…
View original post 65 more words