Land Art Generator Initiative are on of the world's leading arts organisations engaging in energy issues – this talk in Edinburgh later this November is unmissable for anyone interested in developing work in the arts and energy space.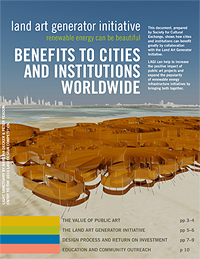 As we aggressively implement strategies towards 100% carbon-free energy and witness a greater proliferation of renewable energy infrastructures in our cities and landscapes, we have an opportunity to proactively address the aesthetic influence of these new machines through the lenses of planning, urban design, community benefit, and creative placemaking. Please join the Land Art Generator Initiative, Creative Carbon Scotland, SCENE Consulting, and ecoartscotland for a presentation and discussion about the aesthetic and cultural implications and the concomitant potential for community benefit of renewable energy infrastructure.
LAGI Founding Directors Elizabeth Monoian and Robert Ferry will speak about the LAGI 2016 Open Competition and the LAGI Glasgow project, highlighting the role that creatives are playing in the design of our energy futures.
Location: Edinburgh Centre for Carbon Innovation
Date: lunchtime (12.30-2pm) 18 November 2015
The Land Art Generator Initiative (LAGI) brings together artists, architects, scientists, landscape architects, engineers, and…
View original post 65 more words